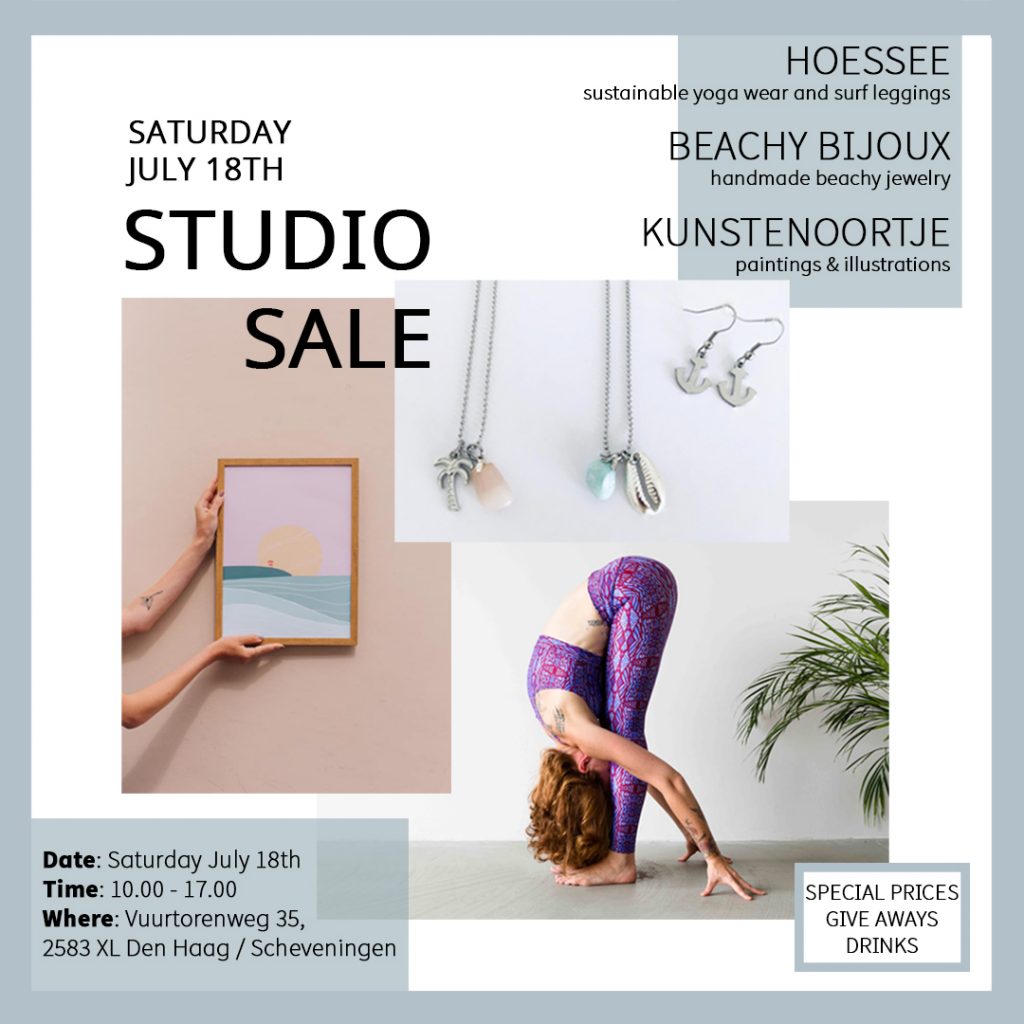 On Saturday July 18th, 2020, HOESSEE organizes a Studio Sale in the studio of HOESSEE in collaboration with Beachy Bijoux and Kunstenoortje. The studio is open all day and you can come by to see, feel, fit, admire and shop at three great brands from Scheveningen.
Three very different products, but all with a beachy vibe. Yoga- and surf leggings made from recycled fishing nets, artwork from vistas of Scheveningen and jewelry with stones and shells.
The stones in the jewelry of Beachy Bijoux, were collected by designer Lisa during surf trips that she made all over the world. Her passions for the beach and the sea radiate from it. The chains, anklets and earrings quickly make you greedy.
Kunstenoortje makes paintings and illustrations. In addition to images of the beloved coast of Scheveningen, she works with themes such as body positivity, equality and sustainable fashion. The works of art are an insight into Noortjes' interests and hobbies and chances are that when you see her work you also want something on your wall.
HOESSEE makes sustainable yoga wear from recycled material. You can do your yoga practice in leggings made of old fishing nets. The fabric doesn't show you it's recycled: it is a high quality fabric, breathable and quick-drying. Designer Tessa, also a lover of beach, yoga and surfing, wants to contribute to the sustainability of fashion and created a collection full of colorful prints. And yes, the leggings and tops are also perfect for surfing. Difficult to choose from all those beautiful prints!
In a time where major festivals and events unfortunately cannot take place, these three entrepreneurs were inspired to organize a small-scale sale for beach, surf and yoga enthusiasts. "Of course we adhere to the corona rules during the sale."
So come along Saturday July 18th between 10 am and 5 pm for jewelry, art and yoga wear and meet the faces behind these nice brands.
Location: 
HOESSEE
Vuurtorenweg 35 / 2.03
2583 XL The Hague / Scheveningen 
Date: Saturday July 18th 2020
Time: 10 am-17 am uur
You'll make us happy when you share our message!
Want to know more? Mail to info@hoessee.com or follow us at instagram @hoessee