Hoessee is full of love for nature, the beautiful healing sea, sweet people, yoga, and sunshine. Life gives us so much beauty! Therefore, we want nothing more than to make clothes that have a positive impact on our beautiful earth and the makers of the clothes. And of course, we also want you to feel good when you wear our clothes.
RESPECT FOR OUR PLANET: making products with minimal environmental impact
A FAIR CHAIN: good working conditions and fair wages to all who are involved in the creation of Hoessee products
TRANSPARENCY: we aim to be transparent about our production process
QUALITY: we choose for high quality materials and production to increase the longevity of our products
GOOD FIT: a good fit is very important in our designing process. We want you to feel good in our clothes.
INSPIRE: inspiring people to make more conscious and sustainable choices
HAPPINESS: We do what we love and love what we do!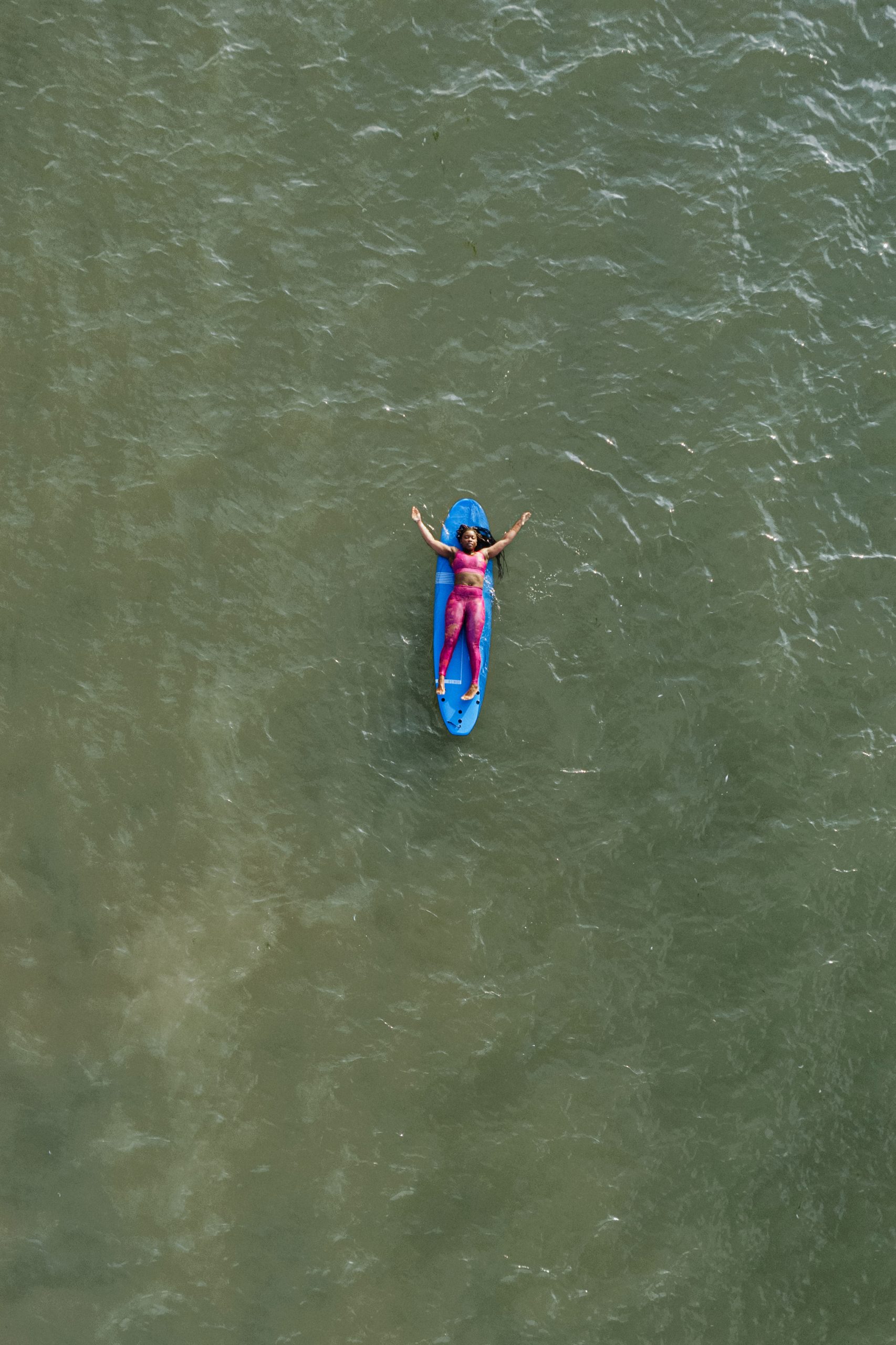 For all our (yoga) clothing, we use only sustainable fabrics.
The fabric we use for our (yoga) leggings and matching tops consists of 78% ECONYL® regenerated nylon and 22% XTRA LIFE LYCRA® elastan.
ECONYL® regenerated nylon is made from waste that would otherwise pollute the earth, such as fishing nets, textile scraps, industrial plastic and old carpets. It has the same high quality as brand new nylon, but is made without the use of new sources. At the website of ECONYL® you can read more about this yarn.
Thanks to the innovative construction and the combination of ECONYL® fibers with XTRA LIFE LYCRA®, the durable fabric retains its shape after frequent wear and washing. Therefor your yoga clothing will last a long time, that also makes a garment durable. The stretchy fabric is soft, breathable and quick-drying and is very comfortable to wear.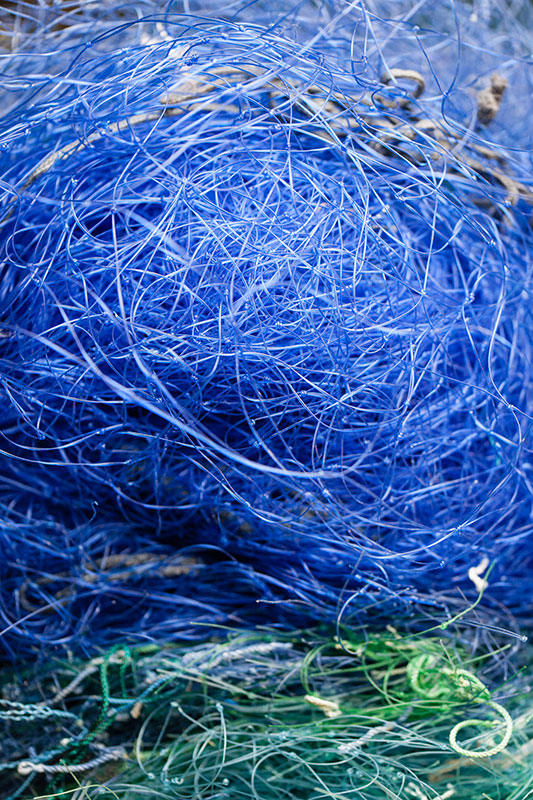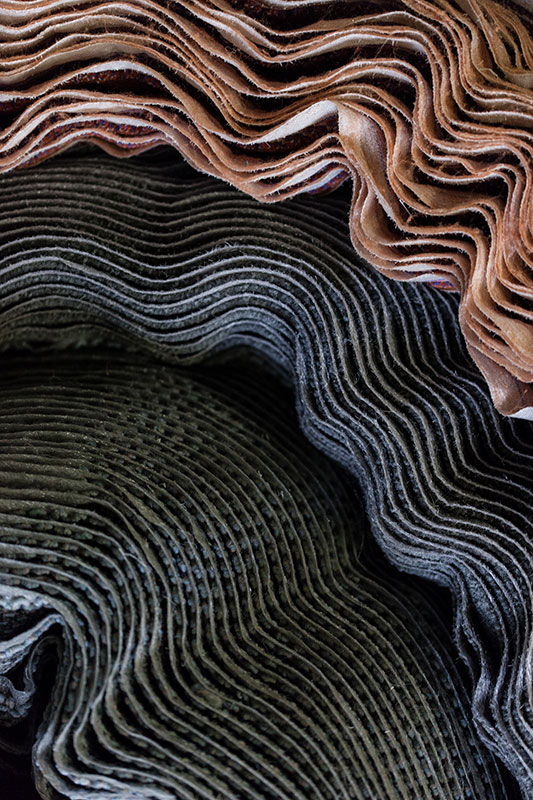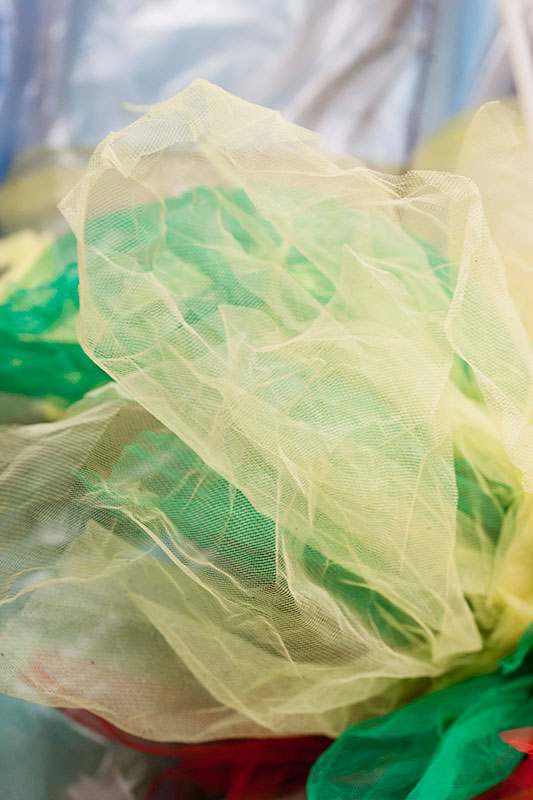 GOTS-certified water-based inks are used to print our all-over prints. We choose digital printing because it is an environmentally friendly printing method that reduces the use of water and energy. Thanks to our innovative design process, we calculate the amount of ink needed to print the design and have minimal waste of ink and fabric.
To our latest collection, we have also added long tanktops and T-shirts. These are made from GOTS-certified organic cotton. You can read more about GOTS certifications here . Organic cotton is grown from organically grown cotton seeds. No chemical pesticides may be used during cotton cultivation. This saves a lot of poison compared to conventional cotton.
The wet treatment of cotton bolls, which is required in the process from cotton plant to yarn, should only be done in an environmentally friendly manner. There are strict conditions attached to the use of chemicals. Wastewater must be treated before it is allowed back into nature.
Because of this process, the final product contains no toxins. This is good for the environment and for yourself, since the clothes you wear come into direct contact with your skin. The prints and labels are printed with environmentally friendly inks.
Below you can read about the journey of our clothing from raw material to finished product and where and how we make our clothing.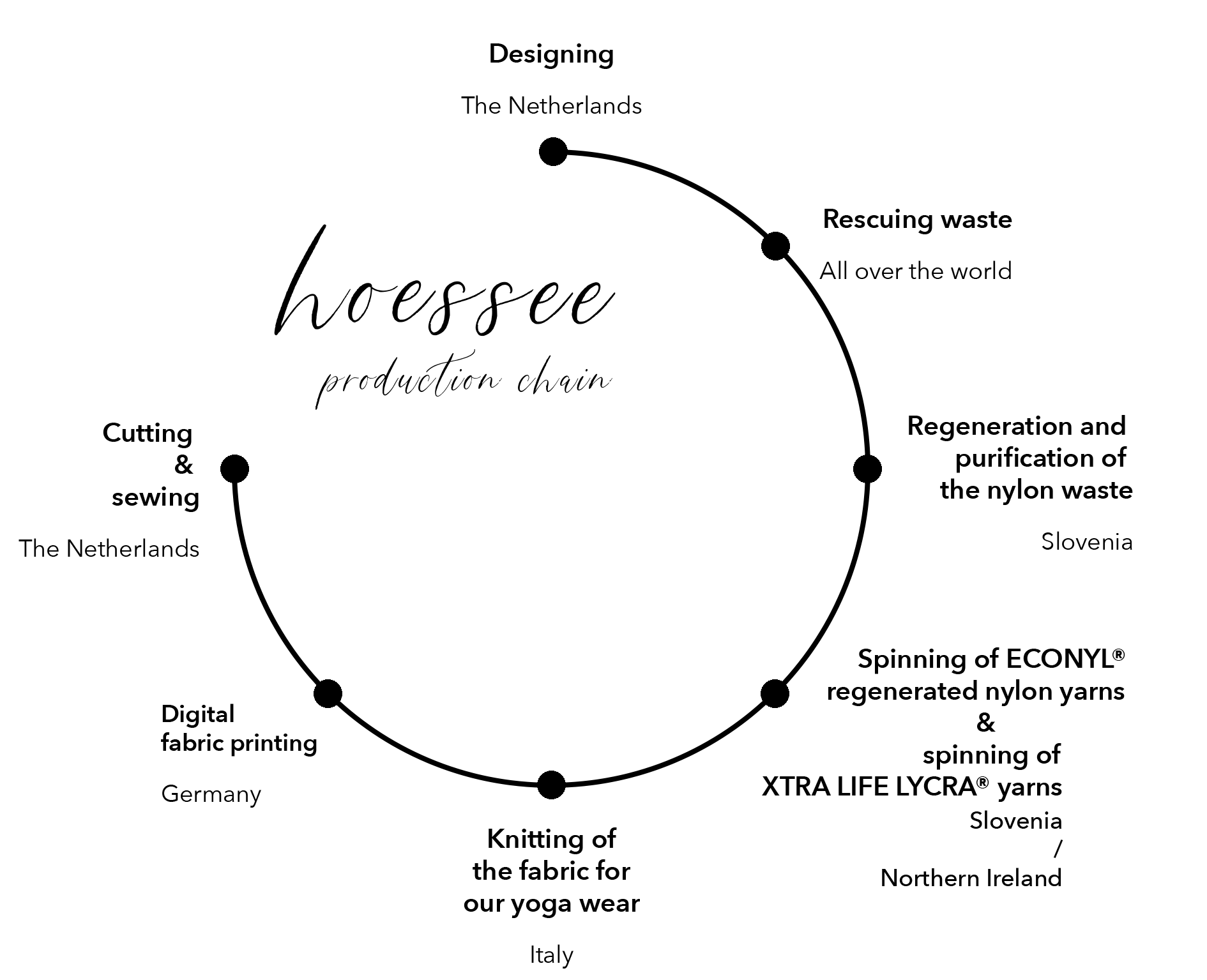 Designing: Designer Tessa loves designing prints! We hope you feel the love when seeing or wearing our yoga wear. A good fit is very important to us. The design process has received a lot of attention. Many women, including yoga teachers and yoga practitioners, tried on our clothing, wore it, sweated in it and washed the clothing, then gave us feedback. With this input, we were able to create the best possible fit.

All sample making takes place in the Hoessee studio.
Rescuing wastel: Pre- and postconsumer waste that otherwise would have polluted the Earth, like fishing nets, carpet flooring, fabric scraps and industrial plastic is collected all over the world and brought to a plant in Slovenia. That waste is then sorted and cleaned, to recover all of the nylon possible. This nylon forms the raw material for ECONYL® regenerated nylon yarns.
Regeneration and purification: The nylon waste is recycled right back into its original purity. This means the quality of the ECONYL® regenerated nylon is exactly the same as fossil-based nylon.
Spinning: Spinning the yarns is the last step before the recycled waste is processed into fabric.
Breien van de stof: In Italy a combination of ECONYL® regenerated nylon with XTRA LIFE LYCRA® is knitted into a high quality fabric with lots of good qualities, like breathability, quick- dryness and a softness.
Bedrukken van de stof: We choose for digital printing, cause it is an environmentally friendly printing method. It uses limited water and energy. The water based inks used for our prints are GOTS-certified (here you can find more about the GOTS-certification). Thanks to our innovative design process, the amount of ink required to print the design is calculated and we have minimal waste of inks and fabric. The fabric absorbs the ink, what results in vibrant colors that last long.
Cutting and sewing: Fabric cutting is done by Hoessee. We take good care of ourselves 🙂



We work with a Dutch manufacturing company that values sustainability and is OEKO-TEX certified. We always meet with the production department before a new collection is produced. It is nice to meet the people who make our yoga clothing. By producing as locally as possible, we avoid unnecessary transportation and we can be sure that the people who make our clothes work in good conditions.
The cotton tank tops and T-shirts we sell are made by STANLEY/STELLA. These tops and shirts are proudly produced in Bangladesh. STANLEY/STELLA is a member of FairWear.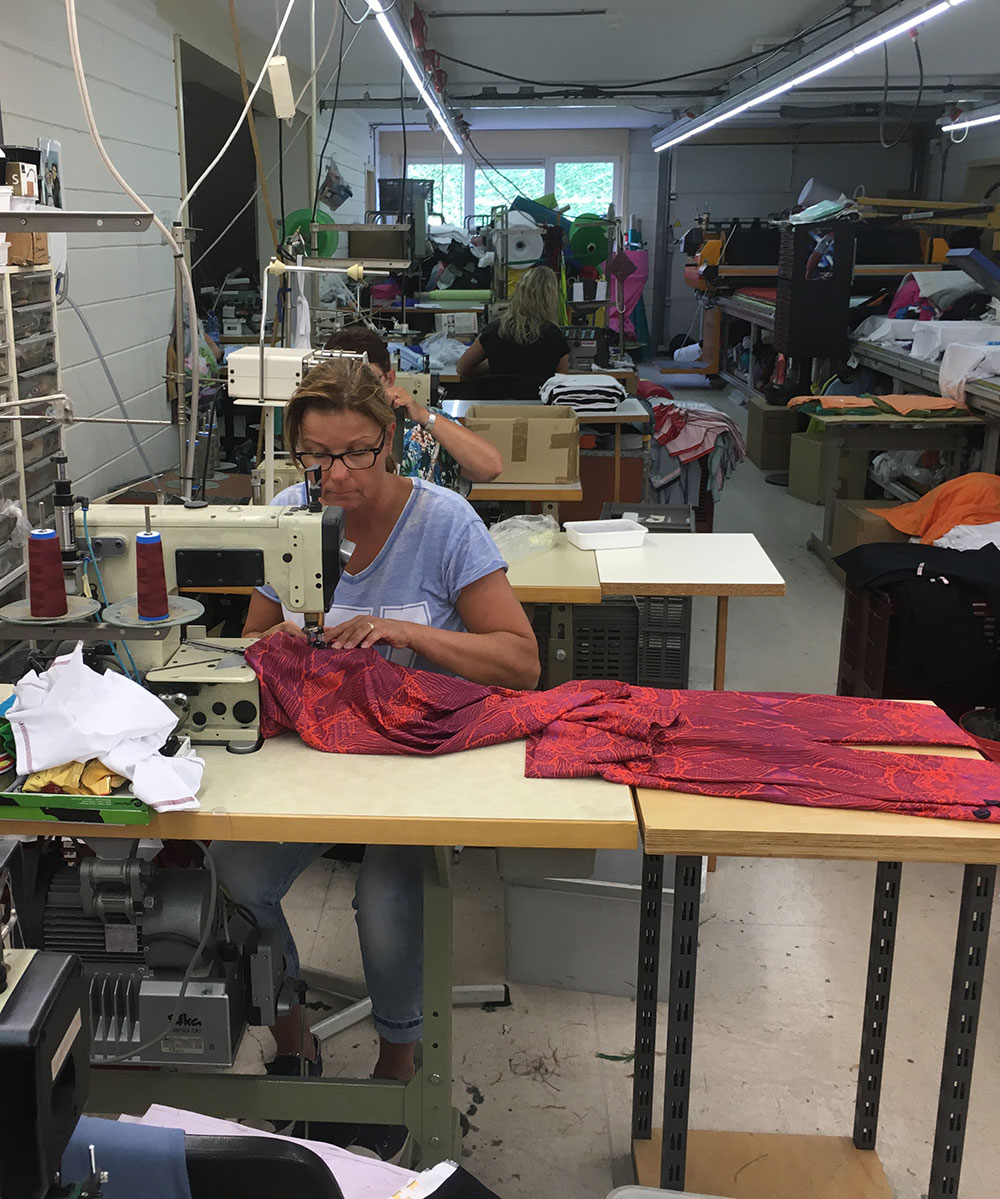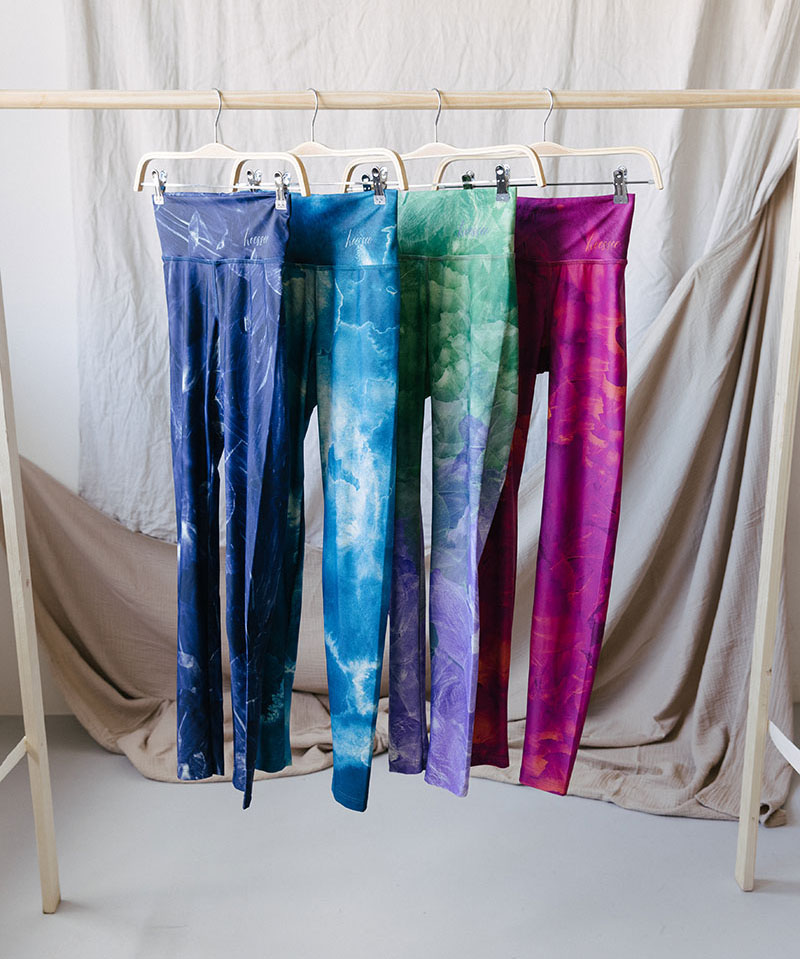 Our sustainable mission does not stop at the garment itself.
As you read above, we try to make more sustainable and fair choices at all stages of the production process. We look beyond the garment itself. For example, we don't want your sustainably made yoga leggings to end up being wrapped in plastic by the manufacturing company, but use recycled packaging material to transport the clothing in.
Clothing labels are printed into our clothing. That way we don't use extra material ánd you don't have irritating labels in your comfortable clothes :-).
The shipping boxes we use are recycled and/or recyclable. The stickers that close the packaging are eco-friendly and contain all-vegetable glue and are therefore vegan. The tags attached to our clothing are printed on recycled paper, as are other promotional materials. With all the fun things we do, we try to keep it fun for our beautiful Earth too!