"Only sell yoga clothes which are made in an honest and sustainable way with respect for Mother Earth."
It's one of the sentences Marieke from YogaChicks read on the YogaChicks website last year just before she took over YogaChicks. She knew immediately that this was what she wanted to do! As the owner of YogaChicks, she writes here about sustainable living, one-woman shows and the click with HOESSEE.
It was mainly the philosophy of YogaChicks that I was "turned on" to. Not just because I love yoga leggings and ultimately want to immerse the world in unique yoga clothing. The topic is more important than ever and the order of the day.
In practice
"Practice what you preach" they sometimes say and so I implement this into as much of what I do as possible:
– I only buy yoga clothes in the EU due to the ballast of air travel on the environment;
– I buy yoga clothes as much as possible from small-scale brands that don't re-stock endlessly;
– The yoga brands I sell MUST be truly sustainable;
– I reuse boxes from suppliers and use sustainable packaging as much as possible.
HOESSEE X YogaChicks
I look for yoga brands with the same mindset. But most importantly unique: preferably one-woman or one-man shows with a story. Yoga brands that I want to give a chance with their brand: a springboard to brand awareness for their yoga apparel.  
So I am proud to announce that HOESSEE has joined YogaChicks. HOESSEE's yoga apparel collection is made of recycled materials and the colorful prints are printed with sustainable ink. Behind the scenes, HOESSEE is working on a new collection made of innovative sustainable fabrics.
HOESSEE and YogaChicks, a good combination. Tessa from HOESSEE tells:
'Sometimes sustainable clothing is just part of a larger offering, but at YogaChicks it's all about sustainability. No concessions, just clothing brands that do their best to produce the most sustainable clothing possible. HOESSEE is happy to be available in this online shop!'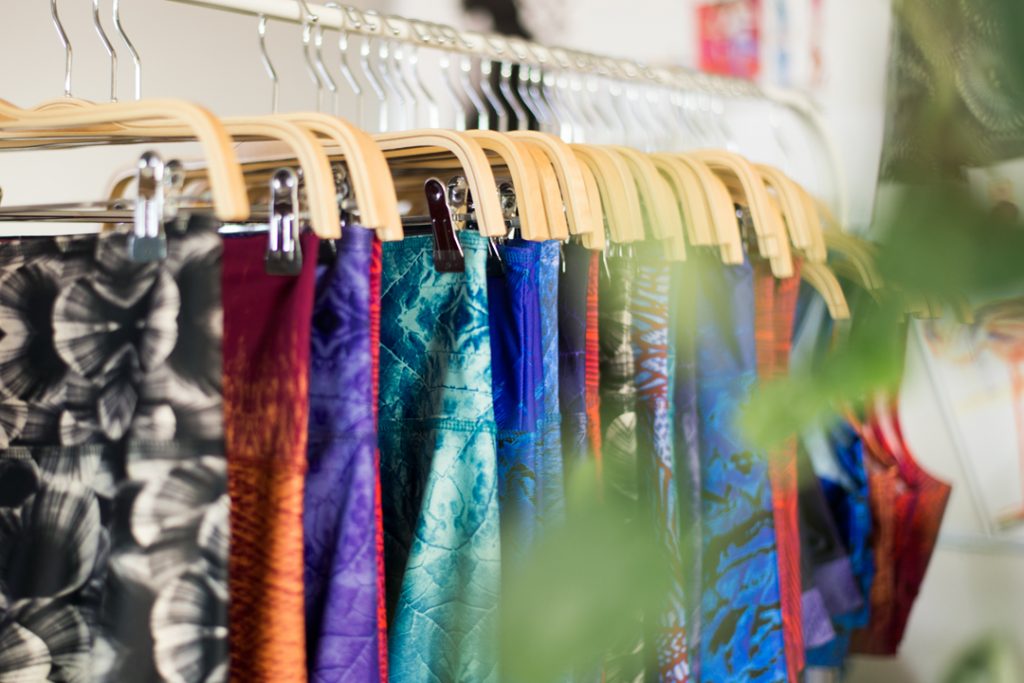 Do you often make sustainable choices?
Separating waste, paying attention to the stove, not leaving lights on unnecessarily… but that's where it ended for me. Until I came home a few years ago. I had the space to think about things and that included sustainability. How could I live more consciously and be an example to my family, to my children? 
A few examples that I have added to my daily life and cannot be ignored:
– Buy organic/sustainable as much as possible, food and non-food, in as little plastic as possible; 
– eating vegetarian;
– reusable fruit nets and cotton bags;
– Reusable cotton pads and wipes;
– Improving waste separating; for example, by completely dissecting cheese trays with the cardboard around them; 
– clothes I buy second hand as much as possible, also for the kids;
– reuse as much crockery as possible instead of getting a new glass for every drink;
I'm well on my way though I say so myself, but I like to learn.
Tessa's tips are also food for thought: "We need clothes and of course it's nice to make yourself happy every now and then with a new piece of clothing. But it becomes even nicer when you wear it with pleasure for years on end. Take a look around and see how many sustainable alternatives there are for what you want to buy and think about whether you want to wear it for a long time. The yoga clothes from HOESSEE have been tested in such a way that I can say that they last for years and the fabric stays beautiful, even after many yoga sessions!
– Marieke from YogaChicks – Yogachicks.nl